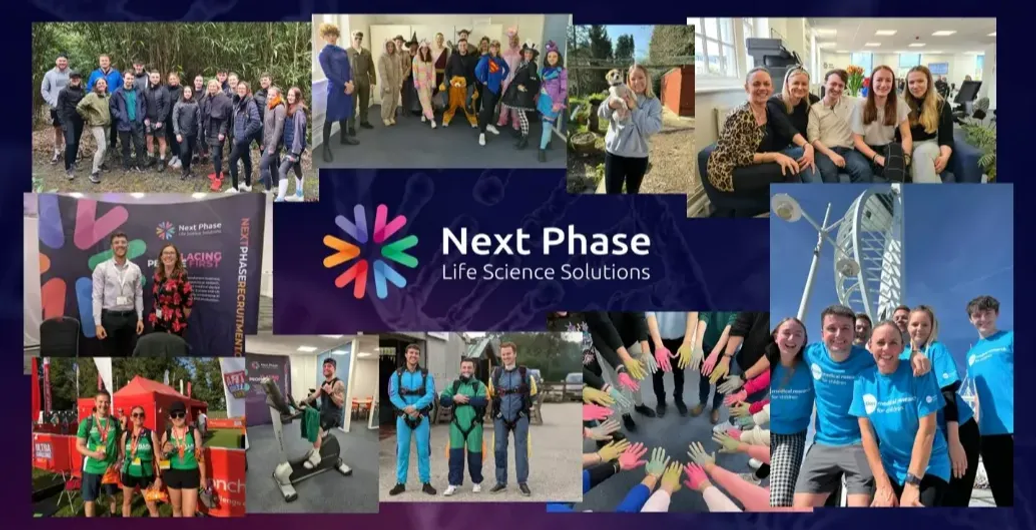 About Next Phase
Next Phase is a specialist life science recruitment business, partnering with brilliant companies and placing people first in the biotech, cell & gene therapy, informatics, pharmaceutical and medtech sectors across the UK, Europe and United States. As APSCo members, we work to the highest standards of recruitment practice. We improve patients' lives by accelerating life science companies' growth through securing market-leading talent.
If you are looking for an exciting career move in the life science industry, check out our latest jobs, register for job alerts or give us a call on +44 (0)1403 216216!
Visit this page to download a range of free resources to help you in your job search.
Click to learn more
Informatics

Solutions Consultant - Pre-Sales - Laboratory Software

£TBD on application

Read more and apply
We recruit exceptional individuals into permanent and contract roles around the UK, USA and Europe:
Watch these videos to learn more about Next Phase, our company culture and the work we do in the cell & gene therapy, informatics, biotech, medtech and pharmaceutical sectors: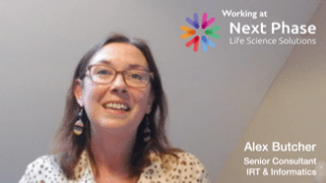 Working at Next Phase - an experienced recruiter's perspective
Alex Butcher describes her experience of working with Next Phase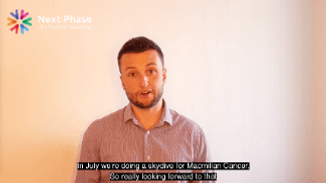 Volunteering, charity work and fundraising
We are passionate about giving back to the local community and charities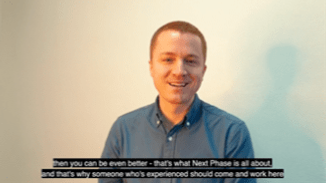 Attracting experienced recruiters!
Jake Thomas talks about why experienced recruiters should join us at Next Phase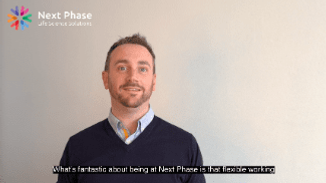 Flexible working at Next Phase
At Next Phase we are firm believers in the benefits of flexibility, with a mixture of office-based and home-based work.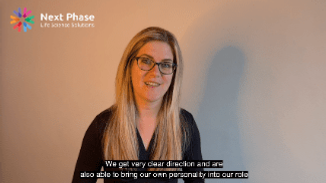 Leadership style and career paths at Next Phase
Our career paths give everyone a clear direction for how they can progress within Next Phase, boosted by internal training and support.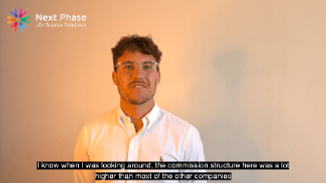 Commission structure and benefits of working at Next Phase
We are proud to offer an excellent benefits package (including healthcare) and commission, in addition to competitive salaries.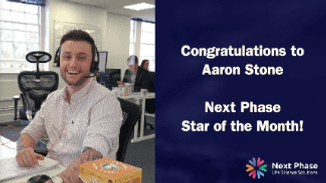 Star of month - Aaron Stone!
Congratulations to Aaron Stone for being voted our Star of the Month for May 2021!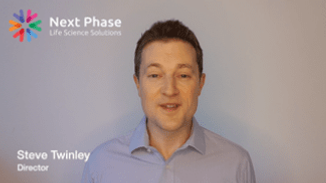 Vacancies at Next Phase!
Steve Twinley talks about some of the current vacancies we have in the Next Phase team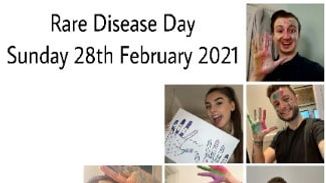 Raising awareness for rare disease day
We celebrated Rare Disease Day in February 2021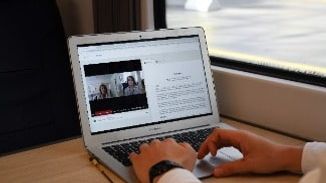 How we use video technology
We use the latest video technology to enhance the recruitment process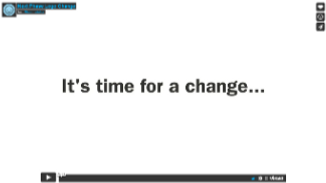 Launching our new logo!
In April 2021, Next Phase is changing its logo!
Six values that guide everything we do as a specialist life science recruitment consultancy:
People-First
At Next Phase we believe that treating all our contacts with care and respect at all times will build better relationships. We are a people enhancement company; personal progression and improvement are the foundations of everything we do. Being "People-First" is something we are all extremely passionate about. It also means putting patients first, recognising the incredible work that our cell & gene therapy, ATMP, biotech and medtech clients do to improve patients' lives.
Authentic
We pride ourselves in our honesty and sincerity, and above all else we are approachable. We believe our candidates, clients and colleagues will flourish on relationships that are built on reliability and trust.
Specialist
At Next Phase we are dedicated to the life science industry, developing expert knowledge to support and advise our partners & colleagues to secure the right outcomes. We share insights, engage in industry events and take an active interest in new innovations in biotech, medtech, cell & gene therapy, pharmaceuticals and rare diseases.
Collaborative
We strive to deliver genuine, reliable solutions to our clients; and we achieve this by working together as a team, sharing ideas and supporting each other in every project we undertake. We believe that this mirrors the patient-focused approach that our biotech, medtech and cell & gene therapy clients take, including with vendor-sponsor relationships to facilitiate clinical trials, GMP manufacturing and international supply of innovative treatments.
Innovative
At Next Phase we believe that to be competitive we need to be entrepreneurial and resourceful. We endeavour to create inventive suggestions for our partners & colleagues to help them excel. This includes making proper use of recruitment technology to support our work. Our biotech and medtech clients are true innovators and we strive to match this spirit of innovation through engagement with new ideas and technology.
Ambitious
We believe that our partners expect to be impressed. By being determined, working enthusiastically and resourcefully we can provide them with prompt, effective solutions. Every person at Next Phase is ambitious, both about their own career progression and how we want the business to grow internationally, across the UK, United States and Europe.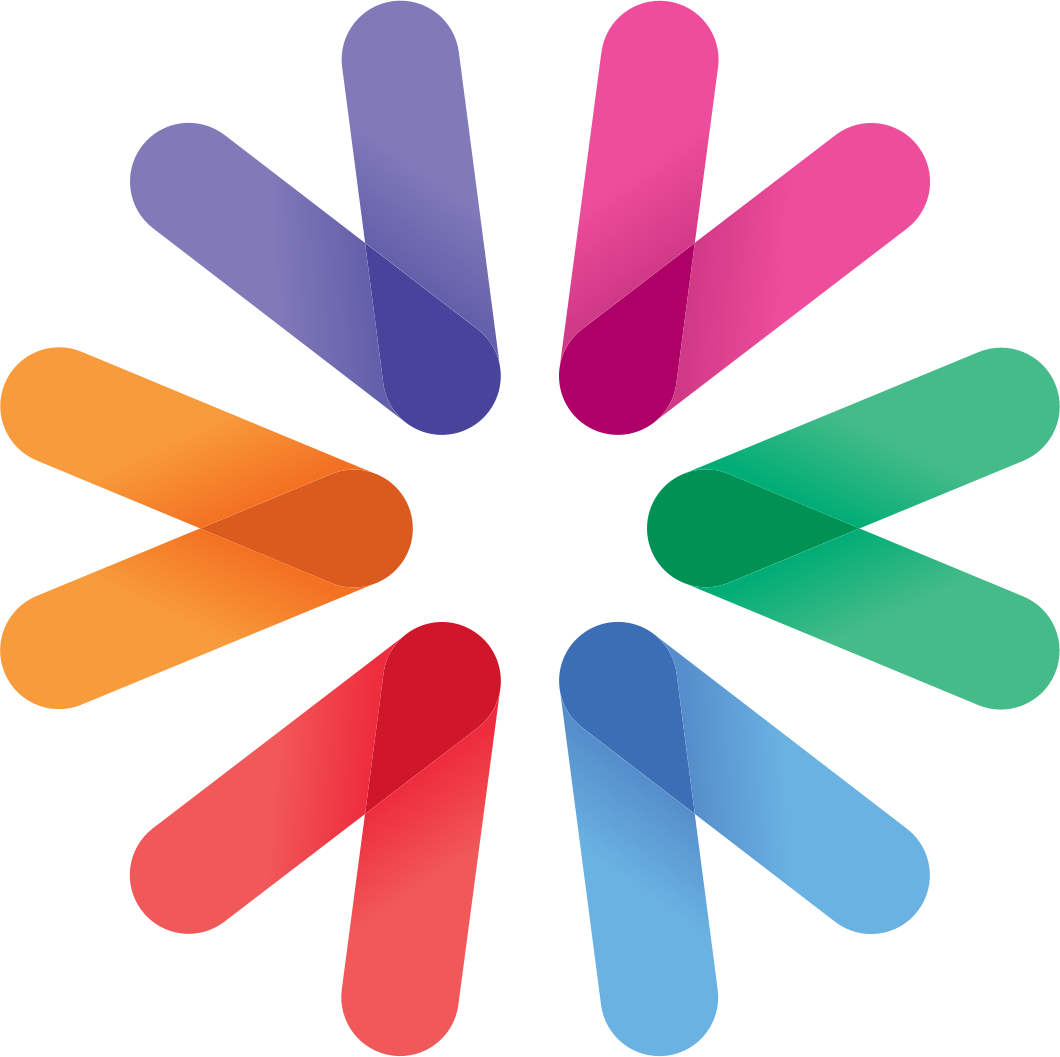 "I could tell that Alex was going to do anything possible to help me get to where I wanted to be"
​I got into contact with Alex through LinkedIn after a colleague of mine recommended her to me to help with my job search. Alex replied to my message within an hour and the process started from there. After some initial conversations I could tell that Alex was going to do anything possible to help me get to where I wanted to be.Alex discussed potential options for me and forwarded my CV onto some great companies. After a couple of days I already have my first interview booked in. Alex supported me through both stages of the interview process which in turn resulted in a job offer for my dream job/company.Since recently starting at Digital Lab Consulting, Alex has called me multiple times to catch up and ensure that she is on hand if I was in need of any additional support.I am very grateful that Alex and Next Phase Recruitment was recommended to me as I am very happy in my new role. I have since recommended Alex to others who are in the process of looking for similar roles.Thank you, Alex!
"She is someone who cares for jobseekers"
​Alex is a great friendly people person, someone who cares for Job seekers, and shows empathy and listening skills. I strongly recommend her to anyone who needs a booster in their career.
"She is an extraordinary job consultant"
​I highly recommend Alex Butcher as an extraordinary job consultant and is amazing at her job! She knows her way around people, she is good with the very transparent communication, does whatever it takes to help others and gets things done. She makes sure that everyone is on the same page and focused on the main goal.
"Professional & Approachable Attitude"
​I am so pleased I had the opportunity to work with Alex again (1st time in 2016). Alex maintained the same professional but approachable attitude. Alex understands your requirements and suggests only relevant opportunities. She will make sure you are ready for your interviews and have everything you need to prepare. Amazing work! Thank you!
"She was really supportive and helpful"
​Alex contacted me for a job opportunity that matched my profile. She was really supportive and helpful. I highly recommend working with her.
"She follows up actively and her advice was really useful"
​Alex was a great help for me to find a new position. She follows up actively, and her advice was really useful and relevant. Thank you again for your help.
"I was super impressed with his positive attitude and work ethic"
​Oli Baylis was really supportive and helpful throughout the entire recruitment process. He listened to the job requirements I was looking for and what type of line of work I enjoyed. If I had any queries or concerns he was quick to help out and address it. I was super impressed with his positive attitude and work ethic he had. I am more than happy to recommend Oli and comeback to Next Phase Recruitment for my future job search.
"Always responsive, professional and helpful"
​"Alex is always responsive, professional and helpful, and a pleasure to work with. We will happily recommend Next Phase Recruitment"
"She was supportive, informative and reliable"
​Thanks to Alex, I have taken the next step in my career by joining one of the largest pharma companies in the world, which I couldn't be more excited about. Alex was supportive, informative and reliable throughout the recruitment process and always kept me updates on the progress of things. Her regular contact from application to acceptance and working my notice period in my previous job was very helpful and reassuring as it made me feel kept in the loop. I couldn't recommend Alex highly enough, and I look forward to keeping in touch with her over the coming months.
"I have already recommended two friends to contact Next Phase"
​This was the best recruitment process I've been through. *** listened to me and what I wanted and made sure I was the best fit for the role before putting me forward. She helped to make sure I was thoroughly prepared for the interview and kept me updated right the way through. I have already recommended two friends to contact Next Phase.
"Kind, approachable and a great listener"
​As a candidate for a role that Gabby was recruiting for - I found her to be kind, approachable and a great listener - she understood what I needed and ensured that any position she put me forward for matched my wants and needs. The process was really smooth and thanks to Gabby I am now working at a great company doing what I love. Thanks Gabby - I really appreciate your help and for always being available if I need anything.
"A pleasure to work with"
​I highly recommend Next Phase for their support, communication skills and integrity. From the first time they reached out to me with an opportunity they have been a pleasure to work with. The regular contact during my application, interview and job acceptance was helpful without being intrusive. Now that I have started my new position they still continue to check in with me and go above and beyond my previous experiences with recruiters.
"Next Phase Recruitment are a wonderful team"
​Next Phase Recruitment are a wonderful team. Alex has a lot of drive and passion and really shows support and belief in those she works with. I would not be where I am today without her encouragement and support! Thank you Alex, it has been wonderful having you on this part of my journey!
"She made the entire process so smooth"
Alex has been a great help in my job search and the entire recruitment / interview process. She made the entire process so smooth and flawless. I would love to work with her again and would recommend her for any future endeavours.
"If you need a change, please contact Next Phase"
​A few months ago, Alex contacted me regarding a new position. Since the beginning she was really nice and answered all my questions. I highly recommend Alex for her professional approach, support and social skills. If you need a change, please contact Next Phase!
"She even remembered my first day, as she sent a message to wish me luck!"
Alex Butcher was for me the right person at the right time! From our first phone call back in the summer of 2021, when I didn't yet know what I wanted for my professional career, Alex has been there to help me and guide me in the right direction. Even though the first position she proposed to me didn't result in a success, she helped me receiving a much better job fit some weeks later. Where I believe a lot of head-hunters stop contacting you once you have signed, Alex stayed with me during my entire notice period, contacting me to see if everything was going well.
"Professional and handled questions"
​During the recruitment into my current role, I was in contact with James and Oli who were both professional and handled any questions quickly. The support prior to having my interview was also very useful in helping me to secure the position.
"Always approachable, helpful and committed"
​Thank you so much for helping me secure this fantastic opportunity! You are always approachable, helpful, committed and a source of calming knowledge.
"I felt like I was in good hands"
​The recruitment process with Next Phase was very professional. They immediately understood my profile and the jobs I could be interested in. They followed up very regularly with me throughout the whole process, and provided me with a lot of information and material that made my interviews with the company successful. I found the conversations and the interactions very open and professional which made it easier for me to quickly clarify certain doubts and or question that I had. Overall, I felt like I was in good hands and I am really satisfied with our interaction.
"She really takes the time and actively listens"
​​I only have great things to say about all the support and guidance Alex has given when finding my current role. She really takes the time and actively listens, never tried to oversell or push any decisions as many recruiters do. I feel that I am not just another number in this partnership. Diligently obtained clarifications, following up closely always very timely and accompanying the entire process from our initial exploratory conversation until after the placement had started.
"Each stage was efficiently and quickly communicated"
Ollie Gearing at Next Phase Recruitment provided professional yet friendly guidance and support throughout my most recent job change. I'm very pleased with how the process was handled, and each stage was efficiently and quickly communicated.​
"Next Phase cares about the people they help to get a role"
​HUGE thanks to Cameron for highlighting the opportunity, asking diligent questions to understand my needs, keeping me updated with where the process was at and finally being able to tell me I'd gotten the role! Been in the role for just over a month now and I'm really happy to be there. Cameron contacted me at the end of the first day to see how I'd gotten on and we spoke again just yesterday to follow up on how the first month had been. It is these extra personal touches that I really appreciated and showed that Next Phase cares about the people they help to get a role.
"It's a pleasure to work with her"
​Alex is an absolutely kind and diligent recruiter. It's a pleasure to work with her.
"Only recruitment company i will ever recommend"
​Next Phase is the only recruitment company I will ever recommend with confidence. Steve is the most wonderful and authentic person with a friendly, approachable personality, and he has helped me more than words can express. Thank you again.
"Clear, regular and effective communication"
​Clear, regular and effective communication between myself and Aaron during the recruitment process was great to have.
"One of the kindest recruiters I have ever worked with"
Alex is one of the kindest recruiters I have ever worked with! She reached out to me for a potential role that matched my profile, and I couldn't have had a smoother process! Alex makes sure she listens to you and your wants and needs, she reaches out and checks back, and she is always there in case you have any questions. Thanks Alex for being such an amazing person, really appreciate all your time and always being there!
"I'd love to get headhunted by her again!"
Through her thorough understanding of the life science business and role she was recruiting for, Alex showed me she was not taking the shotgun approach like many recruiters do, but had hand-picked me and that the new role was really well-fitted to my profile. I remained satisfied throughout the entire process. Her aim was evidently not to get someone hired asap and jump to the next assignment. I always felt that she was supporting me as much as the client company that hired her to recruit me, and a happy and long-standing outcome for both was her ultimate goal. All in all, a great experience and I'd love to get headhunted by her again any time!​
""Never had an easier process""
Ollie is hands down the most professional, through and driven recruiter I have had the pleasure to be associated with. Not only did Ollie find me for a position that fit my next career steps and needs perfectly, he also offered help every step of the way and checked in to see how I was finding the process. He went above and beyond to make sure that the recruitment process went smoothly, and I must say - I have never had an easier process as everything was well-organised, well-prepared and well streamlined. Thank you once again Ollie for helping me take the next step in my career and I have no doubt you will continue to improve both - company and job-seeker - experiences for a long time to come, I couldn't recommend him enough!
"I really appreciate your human approach and genuine interest"
​My experience with recruiters on LinkedIn hasn't been overall positive, so I really appreciate your human approach and a genuine interest to find someone suitable to fill the role.
"Highly professional manner"
Adrienn is a force of good and a great head hunter. She secured my recent career move in a highly professional manner. She was in constant touch with me updating me all the way and checking on me. Her calls are ongoing after my move. She adds her great personal touch to make it a friendship rather than a client relationship. Highly recommend her.
"I really felt supported and listened to"
Alex got in touch with me for a work opportunity that fitted my profile perfectly. She guided me through the whole recruitment process, made sure everything was going well on my side, and was always available when I had doubts. I really felt supported and listened, when I had to make an uneasy decision. Plus, her communication skills are great and efficient ! I definitely recommend working with Next Phase.
"Expert recruiters"
​After being contacted by Aaron I found myself being offered a new job closer to home in under two weeks. Looking for a new challenge and want some expert recruiters support - look no further!
"Constant support through my change in employment"
Alex at Next Phase is personable, easy to approach, and an excellent conversationalist. One of her best traits as a recruiter has to be her ability to filter opportunities to only those that genuinely interest you (every role she shared was appropriate and exciting) and she is never pushy with things you aren't interested in. Alex has been a constant support through my change in employment and seems to have a 6th sense for when to reach out, pre-empting questions right when i needed to know the most.
"Willing to take time and effort "
​...... has helped me through the process of gaining successful employment at Digital Lab Consulting. ...... is very professional and helpful. She is willing to take the time and effort to insure you are as prepared and relaxed for interviews as you can be.
""Supportive and professional""
​I would highly recommend Next Phase. Having been approached by Adrienn for a job position, she was very supportive and professional with my application. Adrienn was approachable with any queries i had throughout the interview process and I'm very happy with the quality of service shown throughout.
"Brilliant Service "
​Brilliant service from Next Phase, with special gratitude to ...... who was an invaluable contact throughout the process of my recruitment and an absolute pleasure to work with. I would recommend Next Phase to anyone.
""I felt very involved every step of the way""
​In my experience, James managed the recruitment process efficiently. James not only followed up with me and kept me informed, but more importantly was keen to understand my requirements/expectations and communicate that on my behalf and I felt very involved every step of the way.
""Every contact is a genuine opportunity to explore""
Alex has been helping me find a new role, putting me forward to potential employers until the pandemic struck. She still continued to work hard to find suitable opportunities and eventually her hard work paid off and landed me a new role at Zifo. She is not like most other recruiters who blank email you with irrelevant jobs, every contact with Next Phase is a genuine opportunity to explore. I will recommend Next Phase to anyone who is looking for a new role
"A great place to develop your career"
​I am so pleased I chose to join Next Phase. The career paths here are clearly defined and you are encouraged in a really positive way to develop yourself in all areas. The commission is fantastic and I am proud to work with such a supportive bunch of people.
"Best experience by far"
​...... ensured to only send me relevant positions and wasted no time I'm getting the ball rolling. The best experience by far in my career working with someone in recruitment. I recommend ...... for anybody looking for a position or looking for staff.
""Going well so far!""
​It has been a busy week with several meetings in order to put things into prospective and get organised; my aim and my intentions are to offer the company the best of my experience and assist the team with their ambitious plans. I have been impressed with their work and I know I will enjoy my term here. I am planning to work hard and offer consultancy of the highest standard to leave good impressions and do credit to Steve and the Next Phase team for trusting and representing me here.
"Smooth and Straightforward"
Thanks to ....... for all of your work on this and for making the whole process really smooth and straight forward. This is a really exciting career step for me and I massively appreciate you bringing all the elements together to get us to the successful offer. I've been working with several recruiters the last few months and it's been very refreshing to work with someone who obviously takes the time to read up on the position/company and keeps things very transparent and straightforward!
"Experts in their market"
Throughout the interview process it became clear that Next Phase are who they said they are - experts in their market who are held in high esteem with their candidates.
"Always Available to Answer Questions"
....... had reached out to me to see if I was interested in a new role! She was knowledgeable about her client and spoke very highly of the company. After introducing me, she kept in touch, making sure I had what I needed for a successful interview. ...... was always available to answer any questions and guide me throughout the process. Even after accepting a position, I have kept in touch with her.It was a please working with her. She was very thorough and supportive throughout the hiring process. She cares both about the companies she helps staff and she cares about the people she places. Would recommend working with ..... for any staffing needs!
"Invests Time & Understands"
​There aren't many recruiters who genuinely invest time to understand your current role & future requirements, ..... is an exception. She has actively sought the appropriate opportunities and presented positions relevant to me. In such a niche market, I'd trust ..... to find the fitting vacancies that suit both the employer and employee
"Engaged and Helpful"
​........ reached out to me for a position she viewed as a match. She was right on, as I also felt the position was as well. Throughout the recruitment ..... was engaged and helpful. With her help, I was able to secure and offer. I would work with her again!
"Definitely Recommended"
I definitely recommend the Next Phase recruitment agency. I was contacted by ......... about the job role that I am now permanent at. She was extremely supportive and helpful throughout the interviewing stage and her friendly approach has helped to me to feel more relaxed and confident. It was a great experience working with her.
"Excellent Experience"
I was approached by Next Phase, by ....... and it was an excellent experience from start to finish. During 2020, a very hard year for us all, ........ was always there, very positive, very helpful and did everything so that I can find the perfect opportunity for my career. Very pleased to have worked with Next Phase, recommend very highly. Thank you
"Great team"
Great team that work together to help clients. They work together to use the best of each other's knowledge to help and excel your application and they all really want you to succeed. I'm so happy with my position I've been placed in through them at the moment, however, if i'm ever looking for another job I will definitely look at vacancies available through Next Phase
"Highly recommended!"
I can always rely on Next Phase for honesty, professionalism and the ability to find people with the specialist skills that we need
"Highly Professional & Responsive"
I have worked directly with ..... from Next Phase for over 7 years and have found his approach and the rest of the Next Phase team to be always highly professional and responsive to our requirements. They have a broad base of capabilities, including BD, Quality, Regulatory, IT and R&D Scientists and have very successfully filled a number of roles across all levels of the business and are one of our preferred suppliers that we would choose to go to first. One of the key aspects that we like is their honesty, if they know that a particular role or area is not a specialism for them then they will at least tell you rather than wasting your time. I would therefore be more than happy to recommend them and have done previously to a number of my colleagues in the Bio Industry sector
""Network access & unique understanding""
Next Phase were instrumental in our early fundraising efforts. Steve was able to unlock the doors of many investors with a specific interest in early stage gene therapy biotechs that would have otherwise been cold and unknown to us. In parallel, he has attracted our industry leading "raise team", consisting of some of the most reputable advanced therapy executives with experience within the ATMP space. Thanks to Steve's network access and unique understanding of this space, we were able to significantly accelerate the development of our business to help improve the quality of life for those affected by rare diseases.
""You have not let me down!""
I always feel confident coming to Next Phase for people for our team. Yet again you have not let me down !
Join us!
We are always on the look-out for ambitious, hard-working individuals to join our growing team at Next Phase. Are you a, motivated person with excellent people skills and some experience in a sales or client-focused role? Are you excited about building a varied and lucrative career in life science Recruitment? If so, we are expanding our team at Next Phase and would love to hear from you!
We offer a great work environment where you are given full autonomy to maximize your potential, alongside hybrid home / office working, industry-leading training, ongoing investment in new technology, excellent bonus package and clear investment plan for all areas of the company.
We work across the UK, Europe and USA and have clear, exciting expansion plans to broaden our presence in the United States and Mainland Europe. If you have the desire and ambition to be involved in this global growth, we would love to hear from you.
Call us on +44 (0)1403 216216 for a confidential chat!
Contact us for an initial chat!
Click to learn more
Upcoming events across the UK, USA and Europe in ATMP, Cell & Gene Therapy, Lab Technology, RTSM and Pharma:
News, Insights and Case Studies, to illustrate our recruitment and staffing capabilities:
Show all articles

Our latest life science jobs
We update our list of vacancies every day, so keep checking back to see what new and exclusive roles we are advertising, across a range of pharmaceutical, cell & gene therapy, rare disease, biotech and medtech businesses in the UK, United States and Europe.
Search jobs
Are you hiring?
Looking to recruit someone in a senior or strategic role? Interested in being introduced to potential investors? Contact us for an introductory conversation about how Next Phase can help you enhance your workplace performance.
Post a vacancy